Throughout the next year, we'll host monthly activities for you to take your skills to the edge with the Edge Impulse platform. Train a board, create a dataset or perform a task - show off your skills for a chance to win prizes!
Get started with Edge Impulse and participate in the activity below to try your hand at winning a prize. You must be registered on Edge Impulse to be eligible to win. Sign up now at the link below!
Keyword Spotting / Wake Word Detection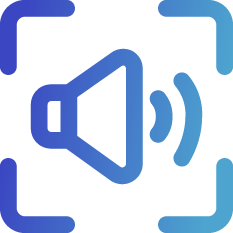 Keyword spotting, otherwise known as wake word detection, is a form of voice recognition that allows computers to listen for and respond to specific words. In keyword spotting, a device listens for a keyword or phrase and triggers an action based on what is spoken. There are many applications for keyword spotting including home automation, customer support services and more. Review the resources below to gain a better understanding of this popular technology and learn how to train a device to recognize your own keyword or phrase.
Keyword Spotting Activity
For our first challenge, we'd like you to teach a device to recognize the phrase, "Take it to the Edge" by following along with the project wizard. We have a series of tutorials and projects listed below that will help teach you about audio classification concepts that you can use in this month's activity found below!
Check out the resources, then follow the steps below to complete the keyword spotting activity and be entered into our giveaway to win a Syntiant TinyML board and Edge Impulse swag.
Video: Build Your Own ML-Powered Keyword Spotting Model in 30KB RAM

Learn the steps required to build a real TinyML model that responds to your voice. No pretrained models, no already created datasets, and no fixed keywords. You'll learn how to collect data from one of our fully supported development boards or your mobile phone, how to train an ML model, and how to deploy this back to your device where the model classifies audio in realtime.

Prefer to read through a tutorial rather than watch a video? Check out the written tutorial version of this demo "Responding to your voice" at the link below.
Get started with Edge Impulse by reading through the docs. In the Edge Impulse docs you'll find user guides, tutorials and API documentation.
In this tutorial, you'll use machine learning to build a system that can recognize when a particular sound is happening—a task known as audio classification.
In this project, author Alvaro Gonzalez-Vila shows you how you can add turn signals on your bicycle and use Edge Impulse with an Arduino Nano BLE to warn others which direction you are going by using "left" and "right" keywords.

Activity: Complete Your Entry
For our first challenge, we'd like you to teach a device to recognize the phrase, "Take it to the Edge"! We have a simple guided walkthrough at studio.edgeimpulse.com/evaluate that will help you along the way.
Follow the steps below to complete this activity and be entered into our giveaway to win a Syntiant TinyML board and Edge Impulse swag. This activity can be completed using a pc, mobile phone or any Edge Impulse supported device.
Sign up for a Hackster account at

hackster.io

, then vi

sit hackster.io/EdgeImpulse and click "Join community" on the top right corner of the page.

Sign up for an Edge Impulse account at

studio.edgeimpulse.com/signup.

Go to

studio.edgeimpulse.com/evaluate. Click "Let's build your first project in 5 minutes" to follow along with the project wizard* and train your device to listen for the phrase "Take It to the Edge

".

Make your project "public" by looking for the "Want to share your project with the world? Click here!" prompt when you complete the audio classification wizard.

Go through the steps to store your public project, and click "View Project". Make note of the URL, you will need it in the form below. It will look similar to https://studio.edgeimpulse.com/public/123456/latest.

Complete the form below to share your project with us and show us what you learned!
Submissions close July 3rd at 11:59PM Pacific.
Edge Impulse will be giving away three prize bundles to eligible activity submissions. The prize bundles include a Syntiant TinyML Board and Edge Impulse Swag!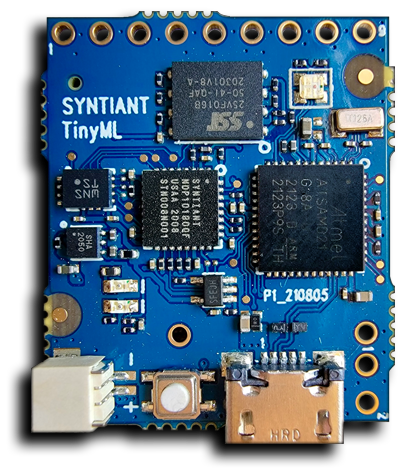 The Syntiant TinyML Board is a tiny development board with a microphone and accelerometer, USB host microcontroller and an always-on Neural Decision Processor™, featuring ultra low-power consumption, a fully connected neural network architecture, and fully supported by Edge Impulse.
With this board, you'll be able to sample raw data, build models, and deploy trained embedded machine learning models directly from the Edge Impulse Studio to create the next generation of low-power, high-performance audio interfaces.
Looking for more inspiration?
Find more audio projects featuring Edge Impulse on Hackster.io.
Who is eligible to participate?
How do I enter the giveaway?
Be a Hackster community member & join the Edge Impulse platform hub.

Sign up for an Edge Impulse account.

Complete the activity and fill out the form above.
Everyone is eligible to complete activities and learn about Edge Impulse. However, you are only eligible to win or be awarded prizes if:
You are at least 13 years of age

You are not a resident of Belarus, Cuba, Iran, North Korea, Sudan, Syria, Russia or Ukraine.

You are not involved in the execution of "Take it to the Edge."
You are not an immediate family member or household member of a Hackster, Avnet or Edge Impulse employee.
Winners will be announced on this page within 5 business days after a quiz is closed. Winners will also be contacted via the email used when submitting their quiz.
I won a prize! When will I receive it?
Do I need to pay taxes/customs fees on my prize shipment?
The prize fulfillment process will take up to 8 weeks after winners have been announced. You will receive an email when your prize is shipped. If you need to make any changes to your address during that time, please contact us at events@hackster.io.
No, Hackster will ship all the prizes and will cover the taxes/customs fees associated with shipment.
If you have any questions regarding this giveaway, please contact us at events@hackster.io.
Find upcoming events, workshops, and more!

Hackster, an Avnet Community © 2022